News
Latest News
2021
Instructor Training program - BDTC - Brisbane Dog Training Club Inc
We've got an exciting announcement!
A brand new Instructor Training program for our very popular Family Dog Training 1 course will be kicking off on Wednesday 23/06/21 from 6pm . This is a great opportunity for any budding instructors - if you are interested in attending the course to learn how to teach people to teach their dogs, please email us at [email protected]
No previous experience required. We would love to see current members apply or if you know someone who you think this would suit please pass the info on!
2018
Change of name - BDTC - Brisbane Dog Training Club Inc
You may have noticed some changes on our website and Facebook page. We are now the club formerly known as ODCB! Our new name - Brisbane Dog Training Club Inc, or BDTC for short, has been chosen by the club committee to better reflect the services and support that the club provides to our members. We hope you like it!
2017/18
Ground Lighting Upgrade to LED with assistance from Community Gambling Grant
Replacing the lighting enabled us to continue running evening classes and Agility and Obedience Trials especially during the summer months with it is often too hot to do so during the day. The old lighting was put up in the 1970's and was starting to fail, was expensive to run and below standard lighting levels for Agility Competition. After we were successful with the grant application one of the power poles fell over into our big gum tree - not great timing but it encouraged us to get moving on the project. Many thanks to the small hard working team that got the job done - Murray worked the lighting plan over many many times until we were happy with the design and Kevin our groundsman overseeing the underground cabling so that we don't have to worry about trees falling on cables. Chris de Jong our electrician was very patient with us, Logan Power Poles were great to work with and Tiger Lights supplied the LED's.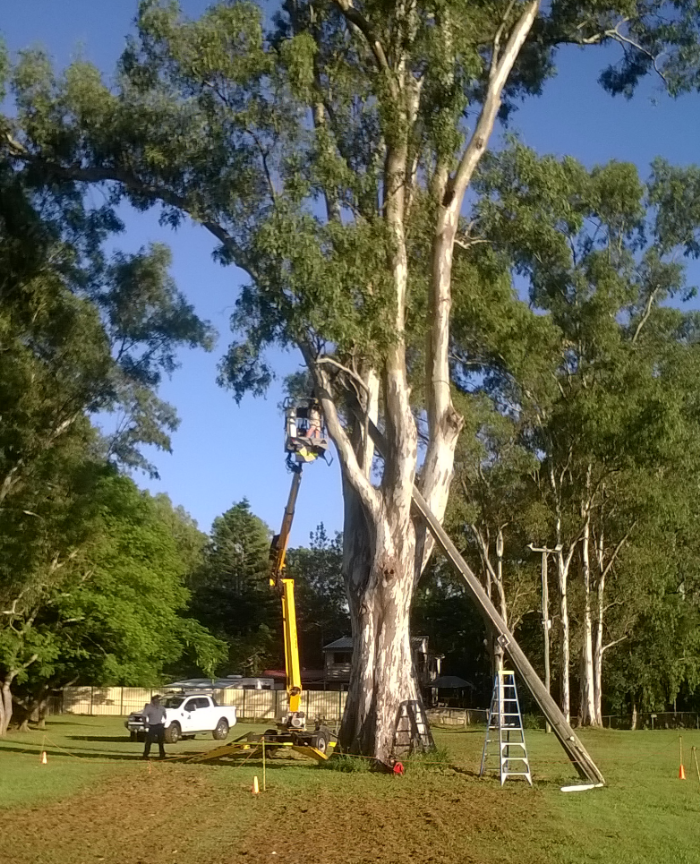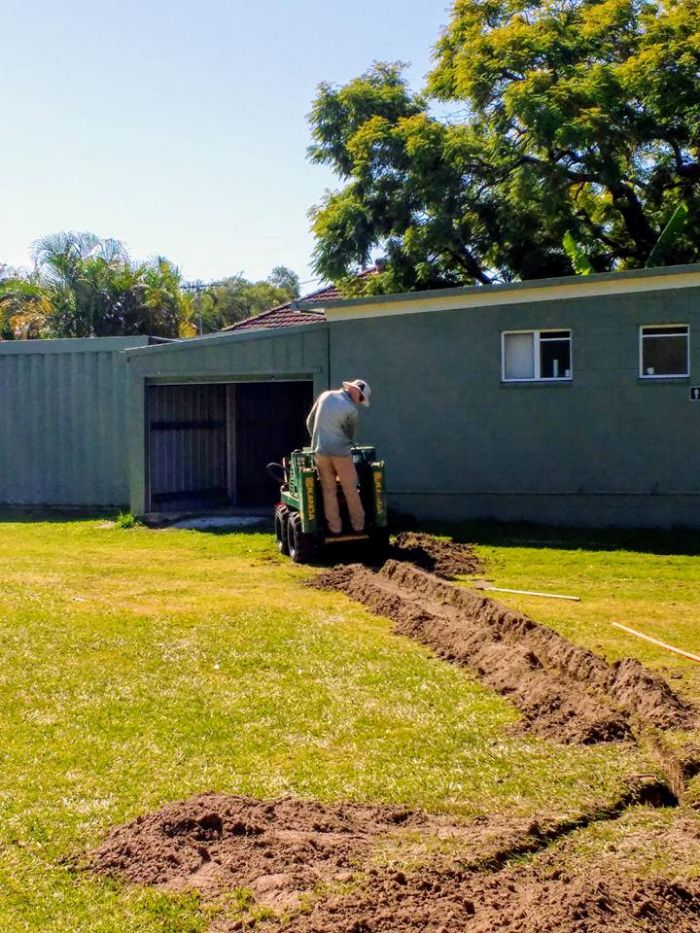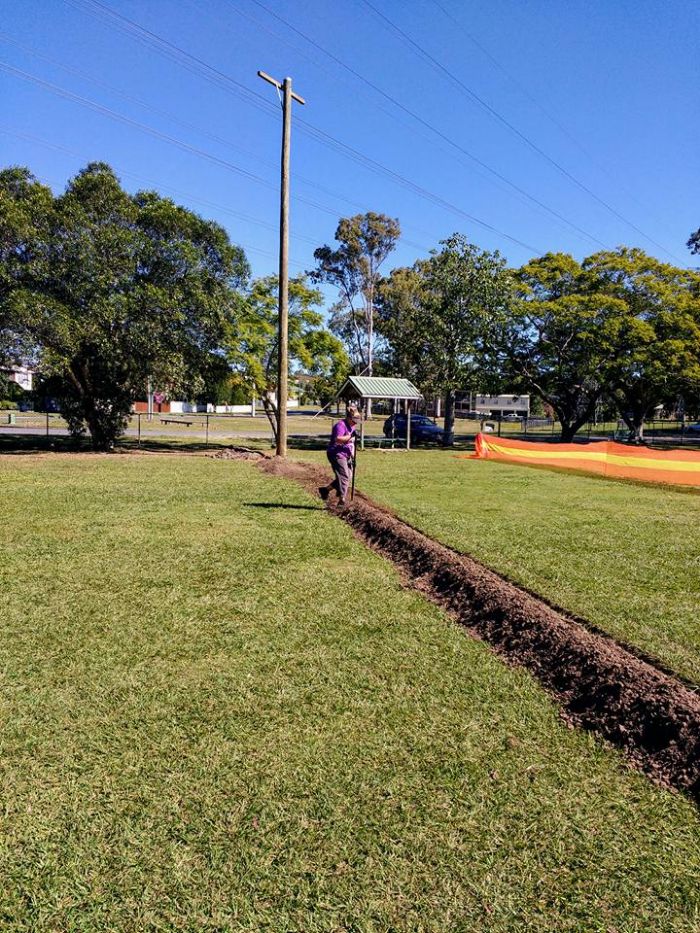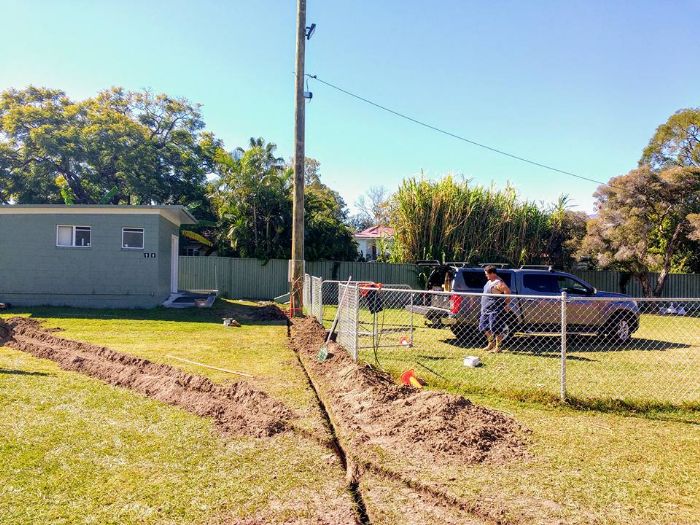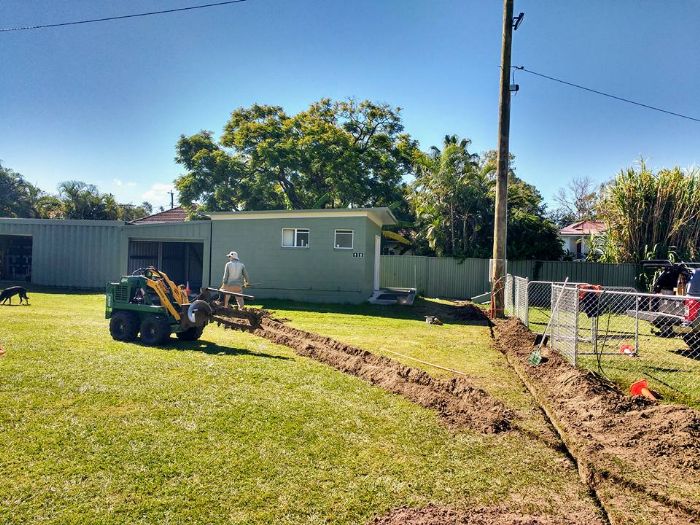 2015
Kamal Fernandez Obedience Seminar. Last weekend a group of trainers and students attended Kamal Fernandez seminar down a Camp Tailwaggers. We all gained a lot of information about relationship building with our dogs.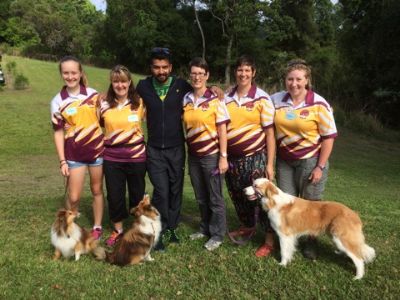 Behaviour Adjustment Training for Aggression, Frustration and Fear seminar. Instructors Leonie Crowe, Ruth Raymond and Caroline King spent the weekend of the 8/9th November with presenter Joey Iversen at the Empowered Desensitisation course. Learnt lots that we can pass onto members. Come talk to us about issues you may be having.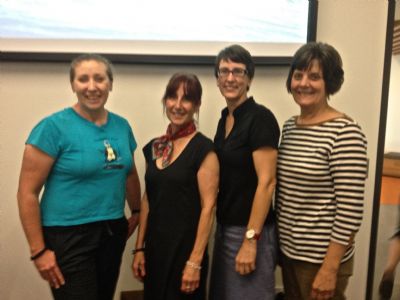 2014
25/05/14 Posing with Dr Ian Dunbar after attending the three day seminar "Science Based Dog Training with Feeling" - lots of information to process and lots of new ideas to incorporate. Leonie, Tenille, Ian, Caroline and Cherie.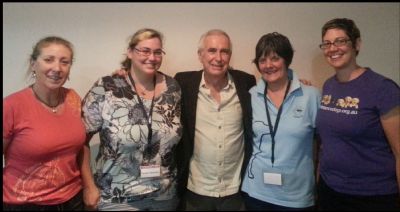 Our AGM will be held in September and we always encourage members to participate - if you are interested and would like to be on the committe or help at trials please come and see us.
Obedience Trial - 15th June - we are looking for stewards if you are free to help we would appreciate your time and you get to watch some amazing dogs.
Agility/Jumping Trial - 10th August - we are looking for lead stewards and timekeepers if you are free to help we would appreciate your time and you get to watch dogs and handlers have fun running the courses.
We now have new classes available to enrole in - for more info go to the training classes tab.
Sports Foundation - Our Sports Foundation course will teach you how to connect with your dog so you have their focus to start sports training. We develop the handlers training skills with a series of tricks and games where you engage with your dog and have FUN playing with them - all the while they are learning and you are practising your training skills.
Obedience Foundation - which is a progression from Family Dog Training course where we will be continuing the good relationship you have built with your dog and expand the behaviours you have learnt in Family Dog Training. We will be introducing some of the terminology and hand signals that we will be using in Intermediate and working on some self control exercises.
Agility Jumping Foundation - which is a basics for anyone who would like to learn the sport of agility. Dogs must be 12 months old to participate. You will learn how to teach your dog to love this sport - this includes jumps, tunnels, broadjump, circle, and weavers.
January 2012:
One year after the devastating floods President Dianne Muller and 2011 Clubmen of the Year Leonie Crowe and Ruth Raymond attended a Community Groups Recovery afternoon tea, sharing pikelets with Premier Anna Bligh, and Queensland Reconstruction Authority's Major General Richard Wilson and QRA's Mike Spenser who was instrumental in assisting ODCB to replace the damaged fence.
Bunnings Oxley hosted an ODCB Community Groups BBQ. A huge thank you to all our volunteers, cooking, serving and cleaning to help raise much needed funds.
ODCB has been successful in gaining funds for replacement of our toilet block. Options are being researched and exciting plans will be announced soon.
Contact Details
Leonie Crowe
15 Englefield Road, Oxley 4075, QLD, Australia
Phone : Prefer contact by email
Email :
[email protected]